1916 DETROIT ELECTRIC Opera Coupe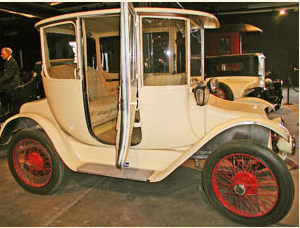 The ANDERSON CARRIAGE COMPANY began building carriages and buggies in Port Huron, Michigan in 1884. It moved to Detroit in 1895.
Realizing the coming of the automobile they began production of their 'DETROIT ELECTRIC' in June of 1907, producing 125 cars that year. This increased to 1500 in 1910. In 1911 the firm changed its name to the ANDERSON ELECTRIC CAR COMPANY and introduced its new 'chainless' direct shaft drive automobile.
Even though they advertised 80 miles between charges, an endurance run was made of 211 miles on a single battery charge. They used Edison batteries.
The car's appeal was mainly to women drivers and doctors, both of whom desired the dependable and immediate start without cranking. Remember, doctors made house calls in those days.
In 1914 production had increased to 4669 cars and in 1919 the name was again changed, to the DETROIT ELECTRIC CAR COMPANY.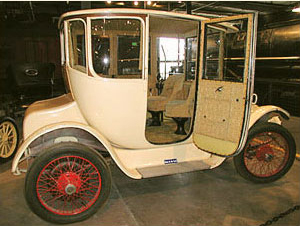 The 1920's saw more roads constructed and longer distances traveled resulting in the electric losing favor. The crash of 1929 ended with the company only building on individual orders.
An acquirer of defunct companies, A. O. Dunk, bought the company and kept it alive for a few years, however shortly after his death in 1936 the company went out of business.
The Detroit Electric brand was revived in 2008 by Albert Lam, former Group CEO of the Lotus Engineering Group and Executive Director of Lotus Cars of England.
Hours and Admission
Monday-Saturday 10am to 4pm
Sunday 12pm-4pm
Admission Rates:
Adults...............$11.00
Seniors(65+).....$9.00
Children(3-12)...$5.00
Children under 3..Free
*Museum Parking is Free*
*Event parking may vary*
Holiday Closures
We are closed the following holidays:
New Years Eve
New Years Day
Easter
Independence Day
Thanksgiving Day
Christmas Eve and Day