The Forney Locomotive 044-T
The FORNEY tank type locomotive was designed and patented by Matthias Nace Forney. This type engine was built by several manufacturers of locomotives. This engine was built by Porter in Pittsburgh, Pennsylvania in 1897. The extensive use of this type engine was on elevated railways such as the New York Elevated Railway, Brooklyn Elevated, and the Chicago Elevated.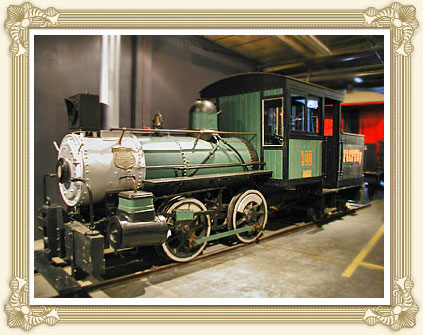 They were called the "Little Giants" and over 500 were in service at the turn of the century hauling both freight and passengers. Prior to elevated railways, surface railcars were drawn byhorses. Steam powered engines on the elevated railways lasted only a few years as they were replaced by the new electric powered engines.
Engines were sold to buyers all over the world for mining, lumber, plantations and for short-haul freight and passengers. FORNEYs hauled both freight and passengers in the Denver area. Denver, Lakewood and Golden Railwayand the Denver Circle Railway were the most widely known.
---
Matthias Nace Forney (March 28, 1835 – January 14, 1908) was an American steam locomotive designer and builder. He is most well known for the design of the Forney type locomotive. One example of a Forney 0-4-4T locomotive built in 1902 by Baldwin Locomotive Works has been restored for daily operations on the Disneyland Railroad in Anaheim, California, as the railroad's number 5, Ward Kimball.
Forney was born March 28, 1835 in Hanover, Pennsylvania. He apprenticed with another prominent locomotive builder, Ross Winans, before joining the Baltimore and Ohio Railroad (B&O) as a draftsman in 1855. He left the B&O in 1858, then worked for the Illinois Central Railroad from about 1861 to 1864. In that position, he patented an 0-4-4T locomotive that was the first of the "Forney" types of locomotives, characterized by the truck (US) or bogie (UK) under the coal bunker/water tank. In 1865 Forney changed employers again, this time to the Hinkley Locomotive Works, where he stayed until 1870. At that time, he started working as an associate editor for Railroad Gazette and quickly earned a reputation as an expert in steam locomotive theory.
Forney was a founding member of the American Society of Mechanical Engineers, and he participated heavily in other engineering organizations such as the Master Car Builders Association.
Forney was the author of the book "Catechism of the Locomotive", first published in 1874. This work is recognized as the seminal authority on steam locomotive construction in the late 19th century.
J.D. Forney, founder of Forney Industries and the Forney Museum of Transportation, was Matthais Forney's second cousin.
Hours and Admission
Monday-Saturday 10am to 4pm
Sunday 12pm-4pm
Admission Rates:
Adults...............$11.00
Seniors(65+).....$9.00
Children(3-12)...$5.00
Children under 3..Free
*Museum Parking is Free*
*Event parking may vary*
Holiday Closures
We are closed the following holidays:
New Years Eve
New Years Day
Easter
Independence Day
Thanksgiving Day
Christmas Eve and Day